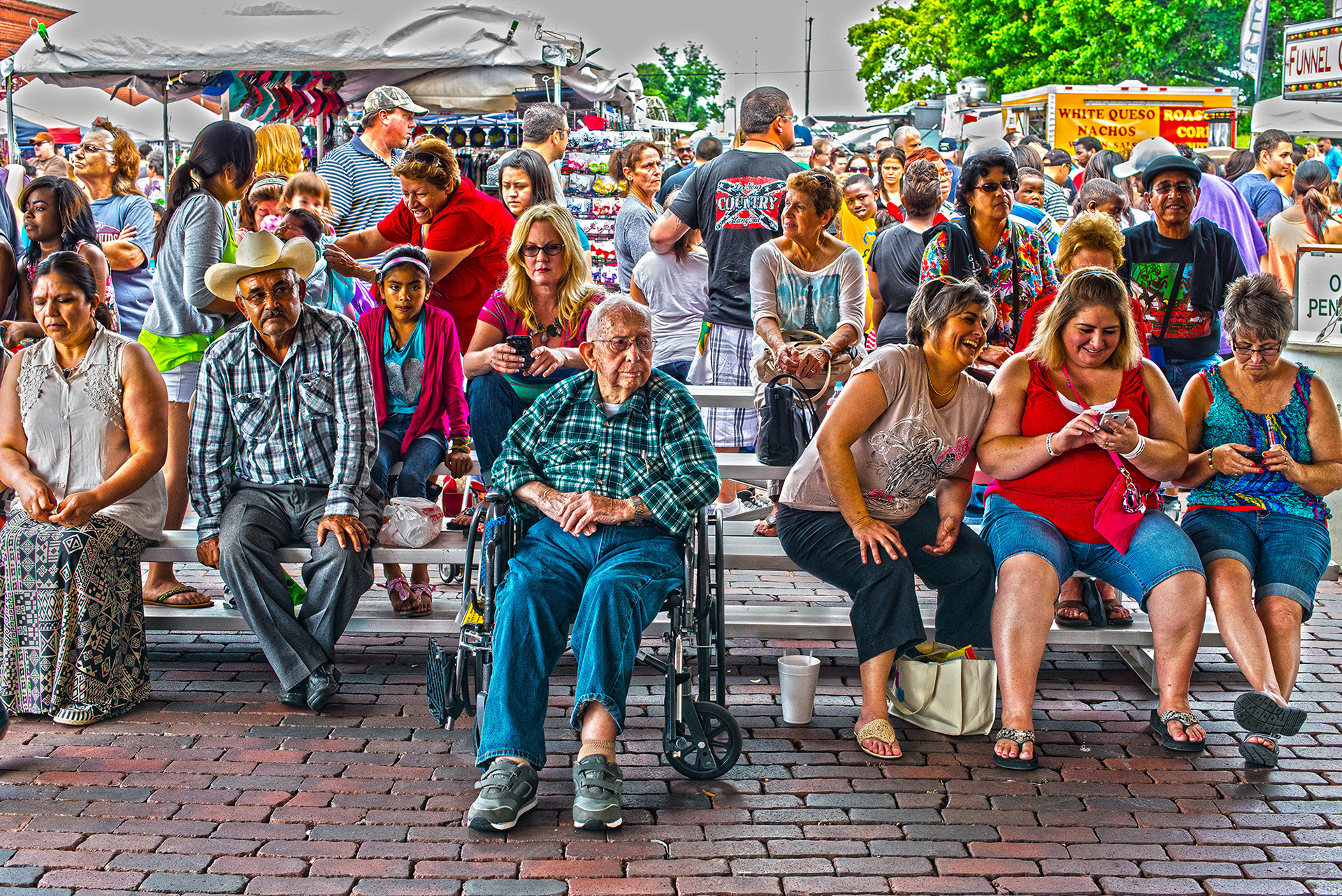 Photo: National Polka Festival Audience, 2017, Ennis, Texas
Click image to enlarge
Exhibitions, Lectures, Commercial Photography and Video
Jesús Manuel Mena Garza is primarily known as a documentary photographer and videographer.  Jesús Garza is a graduate of San José State University with a BA in Journalism with a Photojournalism emphasis. For more than a half a century, he has specialized in documenting people, infrastructure and events.
Garza operated a photography studio, gallery and darkroom in San José, California from 1980 to 1999. The Fall of 1999, the artist moved to Austin so his wife could attend graduate school. At the University of Texas at Austin, Ann Marie Leimer earned her Masters and PhD. The couple still resides in Texas. 
In Fort Worth, Jesús Garza freelances as a photographer and videographer while his wife is a university professor. 
As a teen, Jesús Garza volunteered in his community. He tutored teens in their homes, in community centers and on college campuses. That was well into the 1970's. While in college, Garza collected food for the hungry and donated his time and labor in support of the arts and the United Farm Workers of America. 
Today, the super-old dude continues to volunteer. That includes teaching photography and RVing classes for seniors at Tarrant Valley Community College. He also takes photographs and video of local artists and academics for his archive and YouTube.
For as long as Garza can remember, he has been an avid hiker, fisherman and backpacker. Garza loves camping in the great American outdoors. Especially in beautiful California, Arizona, New Mexico, Colorado and Wyoming. Being immersed in nature, forces the hyperactive artist to take a respite from his suburban routine and accept his modest place in the universe. A spiritually grounding experience.
As a hobby, Garza created three YouTube channels.